Digital Controller Air Oven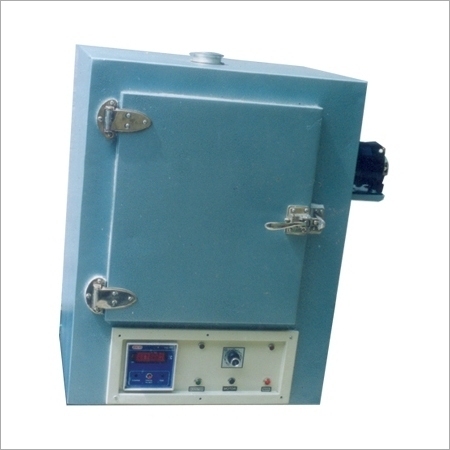 Digital Controller Air Oven
Product Description
The offered Digital Controller Air Oven & Fan Blower is manufactured by making use of excellent quality components and advanced technology in sync with industry standards. Due to its excellent functioning and rugged construction, this machine is highly acclaimed in industrial labs and research centers for sterilization purpose. Also, our quality auditors stringently check the provided machine on certain parameters to ensure its ruggedness. Moreover, clients can avail this Digital Controller Air Oven & Fan Blower in various specifications at highly competitive rates to the clients.
Features:
Robustly constructed and provides optimum performance
Precisely engineered in order to reduce maintenance
Equipped with digital temperature controller and easy to operate
Strong structure and rendering high production
Double walled construction with blower fan for maximum thermal efficiency
We Manufacturer testing instruments for:
Oil Refinery
Cement Factory
Thermal power plant
Aviation Fuel
Grease Manufacturing Factory
Oil Reclamation Plant
Soil Testing Centre & Chemical Plant
Other Small & Big Paint Factory
Instruments are:
Isothermal & Adiabatic Bomb Calorimeter for Coal testing
Digital and Solid State temperature control process kinematic viscometer bath with high accuracy +0.01 C at Various temperature to testing
Various type of viscometer as per IP, ASTM,BS, DIN, IS & ISO specifications requirements
Digital process temperature indicator/controller up to 1200 C, with suitable sensors.
Digital display of LED system stop-watch with direct counting process of o.1 secs/0.01 secs.
Automatic penetrometer
Various type of flash point
PH meter of digital display
Oxidation testers of oils & miscellaneous instruments as per requirement of oil & miscellaneous instrument as per requirement of specification
we are dealing sophisticated digital & analogue chemical balances.
Term & Conditions of business
Delivery:
Delivery from ready stock for running items, otherwise for abnormal instruments, 15- 20 days form receive of order.
Terms of Payments:
Advance 30% on material value with order and balance through any scheduled bank.
Packing & Forwarding change would be extra at actual.
VAT @ 12.% on material value is for west bengal, for outside west Bengal
VAT would be 3% against C or 12.5 % on material value.
Demonstration: For inside West Bengal, free demonstration & for outside West Bengal charge would be up-down fair with staying charge.
Guarantee:
One year from the date of delivery against any manufacturing defect and bad craftsmanship or disorder of Instruments.
We shall take also AMC for laboratory.
All disputes are subject to Kolkata Juristictio