About Us
Petro-Diesel Instruments Company is Digital Colorimeter and other Laboratory Equipment Manufacturing Company that has been engaged in engineering, supplying and exporting high-test Laboratory Colorimeter that bears out the its outstanding performance in measuring the soaking of wavelength of light at an exclusive frequency. The success of the company is driven by attainment of expertise and investment in infrastructural development that habilitates it to stand out and make difference in enhancing the technology & overall qualities of Digital Colorimeter that is designed and fabricated at our state-of-the-art engineering plant as well as the whole collection is put through the quality validation and performance analysis in order to ensure beneficial and important characteristics of products.
Testing and measuring instruments have a wide applicability and are used extensively in oil refineries, cement factories, thermal power plants, grease manufacturing factories, oil reclamation plants and so on. Petro-Diesel Instruments Company is a well established company serving industries with a series of unique testing devices like Bomb Calorimeter, Digital Colorimeter, Digital Colorimeter. Our testing instruments are known for features like accurate and precise recording of readings. The company is are a leading Manufacturer, Exporter and Supplier of Digital Colorimeter and other laboratory testing instruments. Since our inception in 1986, the company has been striving and leveraging its skill to come up with more advanced testing instruments to cater to the special needs of businesses.
We have the requisite expertise and years of experience in offering the complete range of technically advanced and mechanically perfect testing instruments as per the requirements of the clients. Perhaps it is our flexible production capacity and sincere customer centric approach that has enabled us to set up a solid platform in the worldwide market. We present an exquisite range of cost effective products boasting of unmatched features and advanced recording systems.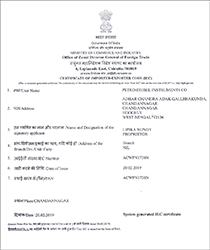 Read More