Adiabatic Bomb Calorimeter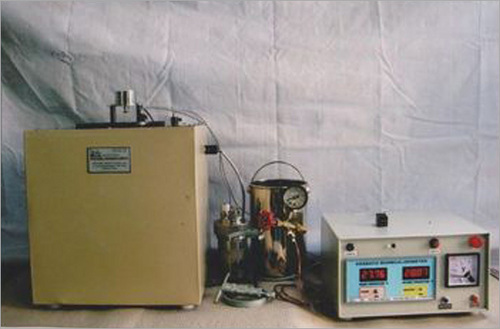 Adiabatic Bomb Calorimeter
Product Description
With the aid of sophisticated techniques, we are affianced in manufacturing, exporting and supplying a wide range of Adiabatic Bomb Calorimeter for our valued clients. Provided calorimeter is manufactured using high grade steel and brass under the supervision of our skilled professionals. This calorimeter is widely used in defense industry for measuring the calorific value of bomb. Also, the offered Adiabatic Bomb Calorimeter can be purchased from us at reasonable prices.

Features:

Low maintenance
Durable design
Accurate measurement
High performance
Adiabatic Bomb Calorimeter :-
Adiabatic Bomb Calorimeter, manually operated model,complete with outer vessel made of stainless steel , inner vessel made of brass chromium plated, calorimeter vessel made of copper and nickel/chromium plated, stainless steel bomb of 300 C.c. capacity, stainless steel crucible, both are made from 316 grade, electrode for firing the the sample, bomb head support, firing unit with voltmeter & digital display Bechman indicator of 0.01 deg. C display with suitable sensor, copper pipe with adjustable cock for oxygen filling in the bomb, head support, briquetter press, nicrome wire of 2 meter, motorized stirrrer by purn Ac motor, complete set with electronic control for balancing the catorimeter water temperature with outer vessel water temperature, by heater with pump circulation and electronic sensing system to balance the two temperature by 0.5 to 1 deg. C run by 220 volt. Ac.